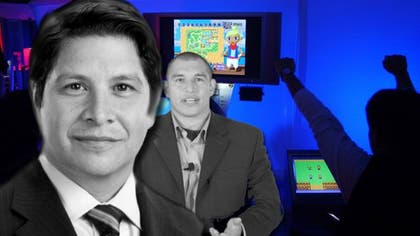 A Greek mythological adventure to teach math to 4th and 8th graders, a hero who fights his way through SAT vocabulary words, and an app game that teaches kids how to write lyrics through Twitter – these are some ideas from young techies who hope to use video games to change the world.
Twenty 16- to 24-year-old Hispanic gamers will be selected nationwide to receive grants based on a single concept: design a game that improves society. It's an idea inspired by a 5-year-old video game fanatic, who also just happens to be the son of Antonio Tijerino, president and CEO of the Hispanic Heritage Foundation.
"My son is a digital native – he was born watching his favorite videos, and playing video games with ease," Tijerino said about the decision behind starting the ESA LOFT Video Gaming Innovation Fellowship.
"There is an innovative tinge to playing video games – it just needs to be bridged."
Contrary to popular belief, Tijerino explained, video gaming is not a waste of time, in fact, it boosts creativity
and decision-making.
He said that a young gamer's interest in playing Xbox, PlayStation or app games like Candy Crush can lead young Latinos to leverage their creativity and interests into careers in the STEM professions – science, technology, engineering and mathematics. Video gaming offers a platform to reach today's youth and spark their interest, particularly Latinos, who spend more time playing video games than African-American and white kids
, he added.
Latinos account for 20 percent of the U.S. population but only 7 percent of the nation's 7.2 million STEM workers, according to the U.S. Census Bureau. The problem, Tijerino said, is not a shortage of qualified Latino applicants – it's about not looking in the right places or using the right platforms.
"We need to figure out a way to reach youth on their terms," Tijerino said."We want to make it so America is tapping into LA, Brownsville, Chicago, the Bronx and Miami. We need to look in America for the solution, not anywhere else."
Tijerino, who is in the business of identifying and preparing Latino leaders through HHF and his organization LOFT (Latinos on Fast Track), believes the STEM gap is partly the result of bad outreach.
"It's important that we market STEM instead of just sounding the alarm," he explained. "It has to be marketed as a product – on their terms, on platforms they feel very comfortable with – like video gaming."
Under Tijerino's program, the 20 winners will head to Washington, D.C. in December to present their ideas to Congressional leaders and influencers, including members of the White House Office of Science and Technology. They will also receive "Innovation Grants" of $1,000.
Throughout the process LOFT offers coaching by mentors like Eutquio "Tiq" Chapa, a 25-year-old mobile app designer and Stanford graduate.
"People in our community can be the ones creating the newest technologies," Chapa said. "We have the creativity. We have the skill."
"It's about engaging, connecting, preparing, placing and following up with them," Tijerino said. "Job fairs don't really work for everyone. If we are not giving them exposure to innovation in a fun way, you're going to have the same results in the last 20 years."